Ride Beyond Boundaries
This November, join us for an exciting journey with MyWhoosh's Ride Beyond Boundaries event. Running from November 3 to November 30, this month-long exploration challenge invites riders from around the world, irrespective of their skill level, to explore the fascinating worlds and routes of MyWhoosh, all from the comfort of their homes.
WHAT IS RIDE BEYOND BOUNDARIES?
Ride Beyond Boundaries is not your typical event. It is an adventure and a challenge to explore and learn more about the rich, diverse worlds that MyWhoosh has meticulously crafted for its community. It is an opportunity to immerse yourself in virtual landscapes while connecting with a global community of riders.
EVENT DETAILS
Duration: November 3 to November 30, 2023.
Stages: Seven unique stages, showcasing the best of MyWhoosh
Ride Structure: Each stage open for day (eight timeslots day), with the schedule repeating throughout the month
Distance: 20-30km per stage
Format: Mass starts, with events running every three hours to accommodate riders from different time zones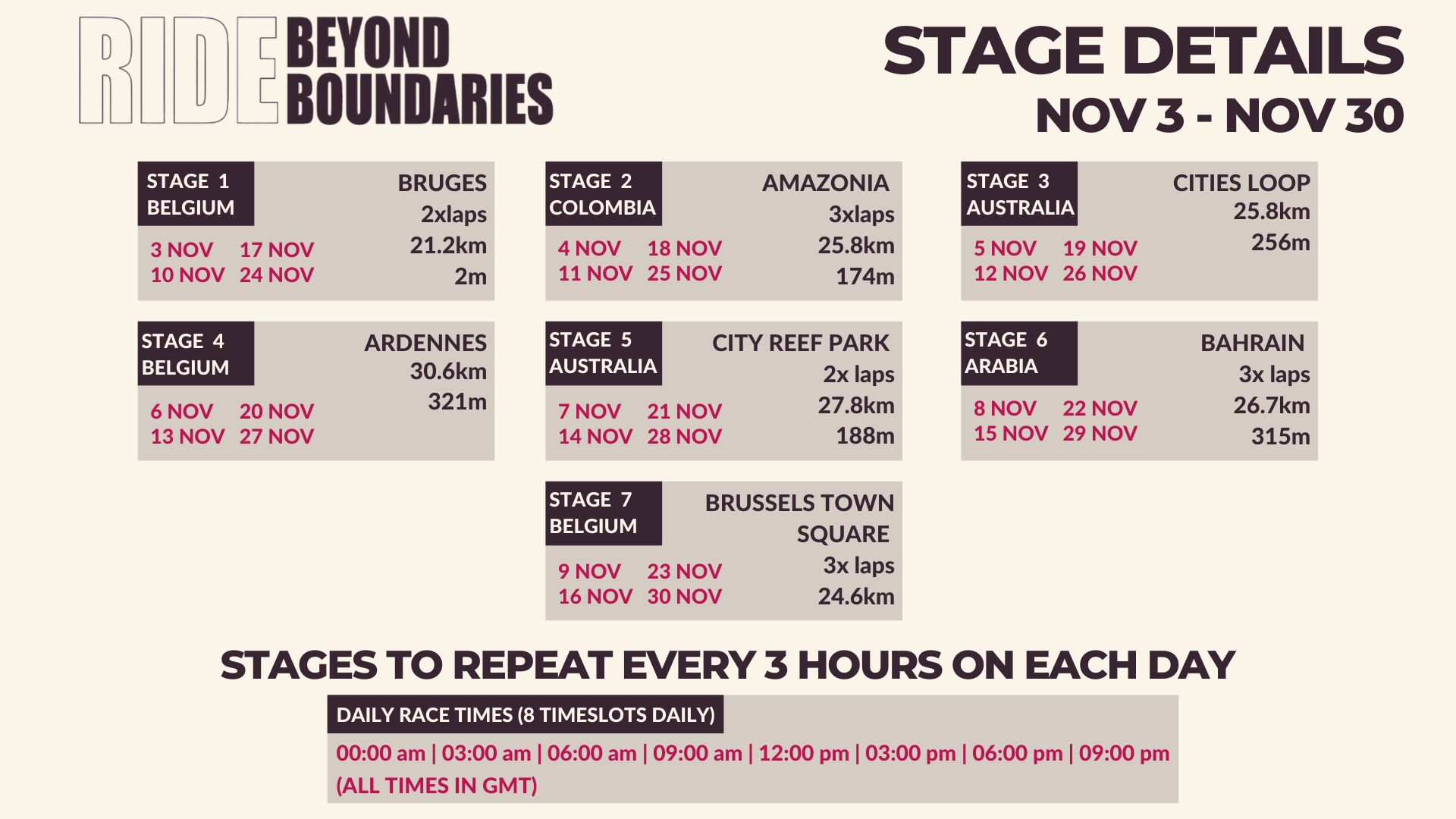 HOW TO JOIN
Joining Ride Beyond Boundaries is easy and does not require preregistration or dual recording. Here is how you can be a part of this incredible journey:
Log in to MyWhoosh and connect with your smart trainer/bike.
Check out the UPCOMING EVENTS section on the left side of the home-screen
Select Ride Beyond Boundaries
Tap on PARTICIPATE.
November promises to be a month filled with excitement, adventure, and camaraderie, as we all Ride Beyond Boundaries together. So, dust off your virtual helmets, pump up your virtual tires, and get ready to explore the thrilling worlds of MyWhoosh like never before. We cannot wait to see you there!