Michael Vink talks all things MyWhoosh Championship
"I'm looking forward to seeing who's going to throw their hat in and stick it out for the full eight days."
Ahead of the MyWhoosh Championship, we sat down with UAE Team Emirates cyclist, Michael Vink, to talk preparation, performance, and perseverance.
Vink is a long-term MyWhoosh rider, in fact, UAE Team Emirates scouted him after noticing his run of impressive results on the platform. With registrations for our Championship now open, he'll be hoping to qualify to join the 260 men and women taking part. In the run-up to the event, Vink was kind enough to let us in on some of his top tips for going the distance. Let's get into it!
How have you been preparing for the MyWhoosh Championship?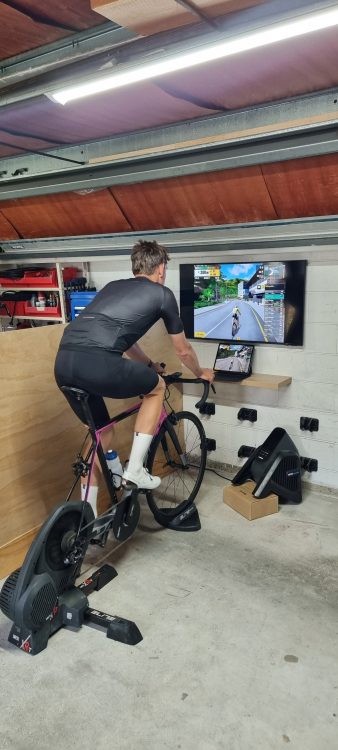 I've spent the past few weeks competing in the World Tour with UAE Team Emirates, which has been super useful for my general race preparation. The Belgium Classic races in late March are quite similar to MyWhoosh – intense and fast-paced as opposed to long and sustained. They've mostly been one day races but they're often back-to-back, if not back-to-back-to-back! It's really important to have that fatigue in the legs and learn how to push through it. Unfortunately for us riders, you do need to suffer with cycling if you want to see progress.
Overall, I feel like I'm in a good headspace and I've been working really hard – hopefully that will pay dividends in the selection process, and the Championship itself.
If your registration is successful, how are you expecting to perform?
Competing in the World Tour does give you that extra level of confidence, but it's a double-edged sword. My busy schedule with the team means I haven't spent as much time on MyWhoosh over the past couple of months as I would have liked. Indoor racing is a completely different kettle of fish, and requires different tactics – you never know what's going to happen. That being said, it will be interesting to see how my body responds following my recent World Tour racing. There's going to be a lot of riders in this Championship – the biggest field for a MyWhoosh event – and I'm looking forward to seeing who's going to throw their hat in and stick it out for the full eight days.
Do you have any tips for those competing? 
Don't underestimate it. Imagine the hardest race in your career and anticipate doing that every day. You're also going to want to prioritize your hydration and nutrition in the weeks building up. Just be sure not to eat or drink too much right before the race. Indoor cycling means you'll lack the natural cooling that the outdoor elements bring, so be sure you've thought about fans, windows, natural airflows – whatever works for you and your space. It's going to get sweaty!
How important is training on MyWhoosh in preparation?
Nothing can really replicate indoor training. Not even the guys on the World Tour would be able to jump into a MyWhoosh race and win convincingly without any indoor practice. Conditioning is super important, and you'll definitely notice a difference if you put the time into your MyWhoosh rides. Essentially, the more you practice, the better chance you'll have of competing for the top prize. So, get on the trainer, and don't be afraid to work hard and get stuck in.
Do you have a mental strategy for the MyWhoosh Championship?
Getting in the right headspace is just as important as your physical training. I'd recommend keeping your goal in mind at all times. Whether it's fitness, money, ranking or reputation – your reasons are as valid as anyone else's. Take time to understand why you're doing it and double down on making that dream a reality. There will be difficult points during the Championship, and it's not uncommon to lose sight of your goal. Just keep bringing yourself back to your why.
What happens if it starts going wrong?
Again, it's a mental game more than anything. If, for whatever reason, you start falling behind or something goes wrong, you have to keep pushing. One time I actually broke my bike mid-race, but still managed to claw it back to finish third! You really never know what's going to happen, especially with indoor racing. That's why I enjoy it so much. There's no harm in trying and persisting, so give it your all.