MyWhoosh Championship – The Biggest Event in Virtual Cycling History with a $1,000,000 Prize Pool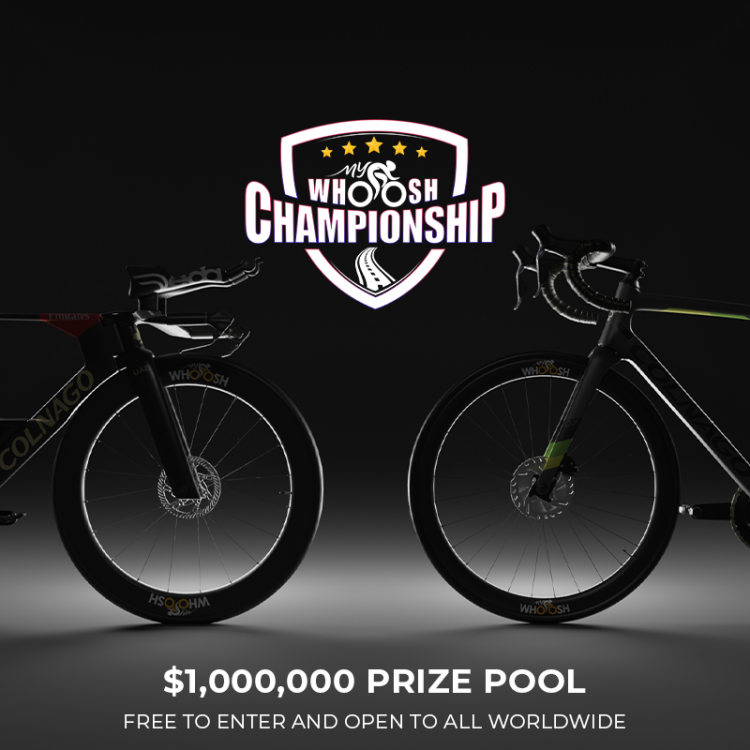 UPDATE: The MyWhoosh Championship will be held from the April 28 to the May 5, 2023. Registrations are now open on the MyWhoosh events page. MyWhoosh looks forward to welcoming virtual riders from across the world to compete for the largest prize pot in virtual cycling history: $1 million!
The MyWhoosh Championship is an eight-day, seven-stage category-based event from April 28 to May 5, 2023, and is designed to test riders to their limits. With an unbelievable prize pool of $1,000,000. to be split equally between men and women, this is the biggest virtual cycling event in history. The MyWhoosh Championship is free to enter, and registrations are open to men and women worldwide.
A total of 260 riders (130 male and 130 female) will be selected and categorized based on the selection and verification protocol (view the technical guide to learn more about this) which will involve registering for the race, submitting weight/height videos, and completing an FTP (Functional Threshold Power) test on MyWhoosh. We suggest you get those numbers peaking!

RACE WINNERS
Prizes will be awarded to general classification winners and stage winners and will be equally split between women and men. Each category will also have its own prize.
GENERAL CLASSIFICATION WINNERS
Top 10 Individual Winners
Top 5 Team Winners
Youth Winner (the Age of 23)
Masters Category Winner (Age 50 and over)
Sprint Winner
King/Queen of Mountain
STAGE-WISE WINNERS
Individual Stage Winner
Stage Sprint Winner
Stage King/Queen of Mountain (KOM/QOM)
TOTAL PRIZE POOL: $ 1,000,000
Sprint Winners and KOM/QOM will be based on points accumulated across segments.
ROUTES & RACE FORMAT
In the MyWhoosh Championship, the riders can expect to race across some of the most breathtaking routes that we have to offer with a variety of stages. There will also be a one-day rest in between.
Each stage will feature a new course, with men racing for 70km and women for 50km. No two days will be the same, with racers taking on routes across the MyWhoosh universe. Each road stage will have a variety of sprint and climb segments, all ranging in distance, and day six will consist of a time trial. The race starts flat for the sprinters and increases elevation for the climbers each day, building to the fifth stage with almost 1800_m of climbing for men and 1100_m for women. On the penultimate day, a time trial will help before finishing with a flat stage to give the sprinters one last chance for glory.
Every day will include sprint/climb segments except for Stage 6 which will be in a time trial style, with no drafting, but will still be a mass-start, first-across-the-finish format. Each race will have handicaps for distinct categories. Each category will have its own start times.
Throughout the championship, men will complete 460km of racing with nearly 6000m of climbing and women will complete 330km of racing with nearly 4000m of climbing.
Registrations for the MyWhoosh Championship are now open and will close on 17th April 2023. All participants will be required to register for the event on the Events page of our website.
REGISTRATION AND SELECTION PROTOCOL
With registrations closing on April 17, 2023, let us jump right into the process:
STEP 1: TECHNICAL GUIDE AND RULESET
Go through the entire technical guide and ruleset. This is perhaps, the most crucial step so that you can familiarize yourself with the rules, and steps to follow for registration, selection, and participation.
STEP 2: WEBSITE REGISTRATION ON THE EVENTS PAGE
Register online for the MyWhoosh Championship at www.mywhoosh.com/events. Remember that if you are under 23 or 50 and above, you will have to submit an ID for proof.
STEP 3: PRE-VERIFICATION FORM
The next step is to fill out the pre-verification form. It is crucial to fill out the pre-verification form no more than 48 hours and at least 12 hours before the start of your FTP Test.
You will have to upload an unlisted weigh-in video, height video, equipment video, and your Strava link among other essential details.
Kindly select MYWHOOSH CHAMPIONSHIP – FTP TEST in the Race dropdown menu.
It is crucial that you input all the details correctly, so please spend the time to read the technical guide and ruleset and be as thorough as possible. The accepted protocol for weigh-in, equipment, and height videos can be found in the MyWhoosh ruleset.
STEP 4: FTP TEST
To be eligible for selection to the race, every participant who registered for the event must perform the FTP Test on the MyWhoosh Platform.
The test to be completed is the 'FTP Test – MyWhoosh' in the TESTING section under WORKOUTS in our app and takes approximately one hour and 15 minutes to complete.
You have to complete the entire duration of the test and the deadline to do so is April 17, 2023.
Make sure your pre-verification form and your registration form are fully completed before taking the FTP test.
Please note that the weight and height in your MyWhoosh profile must match the weight and height in your videos.
All participants must be connected to their primary and secondary data sources (smart trainer or smart bike, heart rate monitor, pedal/crank power meter) during the FTP Test in MyWhoosh.
STEP 5: SELECTION
A total of 260 players (130 men and 130 women) will be selected to participate in the MyWhoosh Championship from all the registered participants and split into four categories.
Selection and categorization will be based on several factors such as but not limited to, performance on the FTP test, number of entries, publicly available information, category suitability, and previous MyWhoosh history.
Once you are selected, we will reach out to you for further steps – including a short verification test, team formation, and filling out the pre-verification form again.
Best of luck!